Deutscher Fußball Botschafter
© Deutscher Fußball Botschafter
Fans can now vote online for their 2022 favourite – Who will follow last year's winner Kai Havertz? - Trailer for the 2022 Public Award published
Berlin, 05.04.2022
In its anniversary year, the Deutscher Fußball Botschafter e.V. (German Football Ambassador) has once again nominated eleven players active abroad through its top-class jury. The online voting is very popular with fans and is also highly regarded by those being voted for, as the choice is made directly by the fan. Due to the great radiance of German players abroad, tens of thousands of football fans take part every year.
The winner, and thus Kai Havertz's successor, will be chosen via online voting.
The voting starts on 05 April and runs until 05 May 2022.
Starting now, people can vote via online voting!
The following players are up for the 2022 election:
• Sara Däbritz (Paris Saint-Germain, France)
• Mario Götze (PSV Eindhoven, Netherlands)
• Ilkay Gündogan (Manchester City, England)
• Koray Günter (Hellas Verona, Italy)
• Toni Kroos (Real Madrid, Spain)
• Dzsenifer Marozsán (Olympique Lyon, France)
• Hany Mukhtar (Nashville SC, USA)
• Leonie Pankratz (HJK Helsinki, Finland)
• Lukas Podolski (Górnik Zabrze, Poland)
• Kevin Volland (AS Monaco, France)
• Julian Weigl (Benfica Lisbon, Portugal)
Exciting prizes await the fans!
Votes can be cast via the website and via the social networks of the German Football Ambassador. All participants have the option of taking part in the competition. Exciting prizes will be waiting.
Online voting: fussballbotschafter.de/en/publicawards
Trailer English: Public Award 2022
Trailer German: Publikumspreis 2022
More than 35 social projects in over 25 countries worldwide
For the tenth time, the German Football Ambassador is honouring German footballers and coaches for their social commitment. As a result, more than 35 social projects worldwide have already been supported.
"Promoting social projects and at the same time honouring the commitment of football personalities is the basis of our idea," said Roland Bischof, President of Deutscher Fußball Botschafter e.V. (German Football Ambassador).
The official announcement of the winner will be made at the anniversary event on 19 May at the Federal Foreign Office in Berlin.
Deutscher Fußball Botschafter e.V. (German Football Ambassador)
The Deutscher Fußball Botschafter (German Football Ambassador), based in Berlin, was founded in 2012 by Roland Bischof and honours German coaches and players who contribute to the positive image of football and Germany through their appearance and commitment. The awards come with prize money for social projects. From Nepal to Namibia: the association has been able to support a total of almost 40 projects worldwide since 2013. Supporting partners include the German Foreign Office, Goethe Institute, kicker and the initiator's Berlin agency, PRESENTED BY. In addition, numerous media partners help to bring the good idea to the world - these include SID, Deutsche Welle, GOAL.com, SKY, Sportbuzzer, setONE, Argus Data Insights and the mc Group.
www.fussballbotschafter.de/en
PRESS CONTACT
Deutscher Fußball Botschafter e.V.
Kurfürstendamm 234 I 10719 Berlin
Phone: +49 30 2809 8798
E-mail: presse@fussballbotschafter.de
Also follow us on:
www.facebook.com/fussballbotschafter
www.instagram.com/fussballbotschafter
www.youtube.com/fussballbotschafter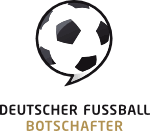 Zur Pressemappe
Kontakt
Deutscher Fußball Botschafter e.V.
Kurfürstendamm 234
DE-10719 Berlin
+49 30 28098798
presse@fussballbotschafter.de
Social Media & Links
Facebook
Twitter
Instagram
Homepage
Themen
» Fußball
» Veranstaltungen
Aktionen
Download als TXT
Drucken
Mehr von Deutscher Fußball Botschafter e.V.