Deutscher Fußball Botschafter - Awards
© Deutscher Fußball Botschafter
Jury nominates Dr. Carolin Braun, Jochen Figge and Franco Foda - Award ceremony at anniversary event at the Federal Foreign Office in Berlin
Berlin, 18.03.2022
The German Football Ambassador Association (Deutscher Fußball Botschafter e.V.) celebrates its anniversary this year. The celebrations will take place at the Federal Foreign Office as part of the annual award ceremony on 19 May. This is the tenth time that the prestigious German Football Ambassador Award has been presented in three categories by the non-profit association of the same name. The nominees have been named in the main category.
This year, the expert jury nominated three candidates who proved their outstanding accomplishments abroad in various manners: Dr. Carolin Braun made a deep impression with a long-term project in Botswana, Jochen Figge is a veteran globetrotter who has been teaching football around the globe for 40 years, and Franco Foda has been a successful club and national coach for several years in Germany's neighbouring Austria. They thus could be the possible successors to the 2021 award winner Uli Stielike in the category of coaches. They represent football personalities who have made a special contribution to sports and social development in their countries of activity and have therefore rendered outstanding services to Germany's positive image in the world.
President Roland Bischof: "This years' nominees represent the ideas and values of our Award in very distinct ways, and I thank the jury for this year's top three choice, who could hardly be more different from one another."
Already in 2017, Dr. Carolin Braun gained experience working as a German Football Association (DFB) Junior Expert in a German Olympic Sports Confederation (DOSB) short-term project in Gambia with Monika Staab, who was awarded the title of German Football Ambassador 2014. Through the international sports promotion programme, Braun was sent to Botswana as the head of a long-term project (2019 - 2022) funded by the DOSB, DFB and Federal Foreign Office, following her work as head of the football department at the Technical University of Munich. She mastered this challenge in an exemplary manner and enjoyed great recognition in the country. One of her main focuses was coach training and talent scouting. In addition, as Technical Director at the Botswana Football Association (BFA), she was responsible for the entire sporting development, as well as assistant coach of the men's national team and advisor to the coaches of the women's selection teams. Recently, she and the women's team qualified for the Africa Cup for the first time.
The second nominee was also active in Botswana. Jochen Figge, was involved as a DOSB coach, DFB foreign expert, FIFA coach and technical advisor on five different continents. He has been engaged in numerous countries, from Nepal to Papua New Guinea, from Zambia to Trinidad-Tobago. Figge started 40 years ago in Guinea as a coach and "football development worker" and was only stopped in 2020 by the Corona pandemic in Belize. The prize money of his nomination will also go to a social project there. "The nomination as German Football Ambassador took me by surprise, which is a very challenging situation for me in these difficult times", the former Werder Bremen player said.
This year's nominations are completed by Austria's national coach Franco Foda. Already during his active time, the former defender made his way to Austria to join SK Sturm Graz, with whom he became two-time champion, Supercup winner and Cup winner in the autumn of his career. After the end of his career as a player, he moved directly onto the coaching bench. As head coach, he was again able to win the Austrian Cup and an Austrian championship title. Foda was thus involved in all of Graz's championship titles either as a player or coach.
The football coach, born in Mainz (Germany), has been successfully coaching Austria's national team since 2017. Under Foda's leadership, the national team won its first game at a European Championship Final and was only eliminated in the round of the last sixteen at the 2021 European Championship. The next big goal is to qualify for the FIFA World Cup in Qatar, which can still be achieved in an elimination against Wales despite a mixed group phase (the decisive World Cup play-off takes place at the end of March).
The previous football ambassadors in this category (main prize) were: Holger Obermann (2013), Monika Staab (2014), Jürgen Klinsmann (2015), Gernot Rohr (2016), Horst Kriete (2017), Gert Engels (2018), Jürgen Klopp (2019), Anja Zivkovic (2020) and Uli Stielike (2021).
Photo- Video gallery > https://we.tl/t-6ujqoLyatS (WeTransfer)
Deutscher Fußball Botschafter e.V. (German Football Ambassador)
The German Football Ambassador, based in Berlin, was founded in 2012 by Roland Bischof and honours German coaches and players who contribute to the positive image of football and Germany through their appearance and commitment. The awards are combined with prize money for social projects. From Nepal to Namibia: the association has been able to support a total of almost 40 projects worldwide since 2013. Supporting partners include the German Foreign Office, Goethe Institute, kicker and the initiator's Berlin agency, PRESENTED BY. In addition, numerous media partners help to bring the good idea to the world - these include SID, Deutsche Welle, GOAL.com, SKY, Sportbuzzer, setONE, Argus Data Insights and the MC Group.
http://www.fussballbotschafter.de/en
PRESS CONTACT
Deutscher Fußball Botschafter e.V.
Kurfürstendamm 234 I 10719 Berlin
Tel.: +49 30 2809 8798
E-Mail: presse@fussballbotschafter.de
Also follow us on:
www.facebook.com/fussballbotschafter
www.instagram.com/fussballbotschafter
www.youtube.com/fussballbotschafter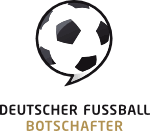 Zur Pressemappe
Kontakt
Deutscher Fußball Botschafter e.V.
Kurfürstendamm 234
DE-10719 Berlin
+49 30 28098798
presse@fussballbotschafter.de
Social Media & Links
Facebook
Twitter
Instagram
Homepage
Themen
» Fußball
» Soziales Engagement
Aktionen
Download als TXT
Drucken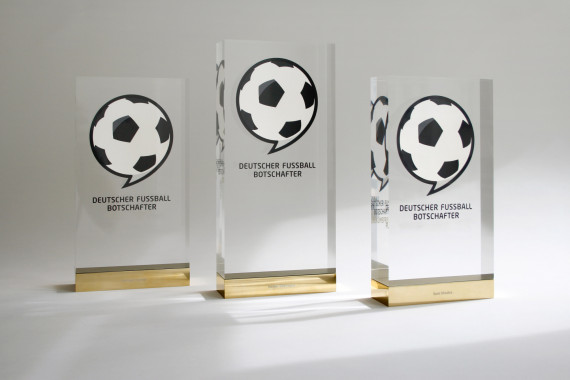 Deutscher Fußball Botschafter - Awards
© Deutscher Fußball Botschafter
Download
Mehr von Deutscher Fußball Botschafter e.V.